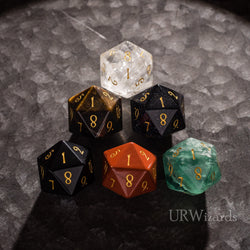 Urwizards
SPINDOWN D20 Engraved Gemstone Dice -Dungeons and Dragons, DND, MTG Game Spindown Dice
Notice:
Gemstone dice are fragile, so I recommend that you can roll them on something with a soft surface, like a soft wool felt dice tray:
https://www.etsy.com/listing/691535271/soft-wool-felt-dice-tray-soft-tray?ref=shop_home_active_1&frs=1
And if you purchase more than 2 sets (include 2 sets) of dice, you will get a dice tray for free!
This listing is just for 1 Spindown D20
Customer need to know:
Director's Notes Regarding Gemstone Dice
We use real gemstones to create our dice. Striations, patterns, and differences in the mineral are natural and to be expected. Due to the nature of natural minerals, your unique dice may feature differences in colour, texture, and translucency to the set pictures. Importantly, your natural mineral dice are hand-crafted, not machined, and so may have faces that are slightly different in size. Engraved numbers may be off-centre, depending on seams or facets of the stone. There may be small differences in balancing between sets, due to the weight of the gemstone. We encourage you to embrace the individual beauty of natural precious stones and the age-old process of hand-crafting. Hard surfaces may damage your stones; please consider this when rolling.
Size of each dice:
D4 = 16 mm
D6 = 16 mm
D8 = 16 mm
D10 = 16 mm
D% = 16 mm
D12 = 18 mm
D20 = 18 mm
Need a nice GIFT box to pack the dice? Click here:
👉https://www.etsy.com/listing/696565075/dnd-dice-set-box-gift-box-group-gift-box?ref=shop_home_active_17&frs=1👈
Estimated shipping times
US orders:

Regular shipping time is 8-12 business days to arrive.

Other Countries :

Regular shipping time is 10-18 business days.
Estimated shipping cost
For US order, regular shipping cost is $3.98(One item) and $1.98 for the additional item.
For Other countries' order, regular shipping cost is $5.98(One item) and $1.98 for the additional item.
Processing Time:
All the products are handmade items, so each order will take about 2-3 weeks to process before it was shipped out, I just hope you guys know that I will make them with my heart and passion. So I think it is worth to wait :) But if you have any questions about the order, please contact me by email, I will let you know each detials of you order.
Thanks!
If you have any questions about our products or order. You can contact us by: urwizards@outlook.com